Pilot Projects
The pilot projects are ideal to better understand and evaluate the FlowVision capabilities on your specific CFD task. The pilot projects are offered on a fixed time-cost basis, which eliminates unpredictable factors and minimize the risks. Our experts will guide you through the project and share with you their expertise. If you wish to actively participate in the project we will install FV evaluation license on your site so you can follow and actively participate in different project phases.
Workflow of FlowVision Pilot Projects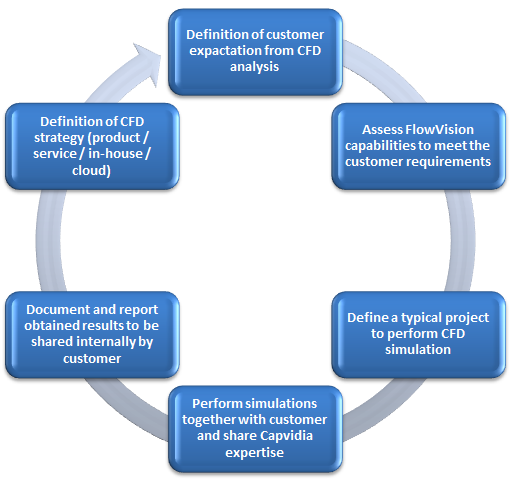 Projects with own Resources & Projects On-Side
We offer a wide range of CFD simulation solutions performed by highly qualified human resources in order to fulfill your engineering tasks. In addition to, and generally followed by, special pilot projects; we are also pleased to serve you by providing regular and project-based CFD consultancy services.
Thanks to unique FlowVison capabilities we can deal with a wide range of special CFD applications, considered to be difficult and not easy to solve. We offer various CFD projects covering all basic as well as the most advanced CFD simulations.
Please contact us for detailed information about completed projects, references and what our experts may offer for your CFD simulation tasks.