TESIS company participated in the annual conference SCC2015 (SIMULIA Community Conference), held in Berlin, Germany on 18-21 May.
TESIS company stand was opened in the exhibition of our partner, Dassault Systems, with special focus on strong cooperation of software packages Abaqus and FlowVision. During the conference, our stand aroused significant visitor interest with the special subject: "Simulation of Strongly Coupled Fluid-Structure Interactions (FSI) using Abaqus and FlowVision".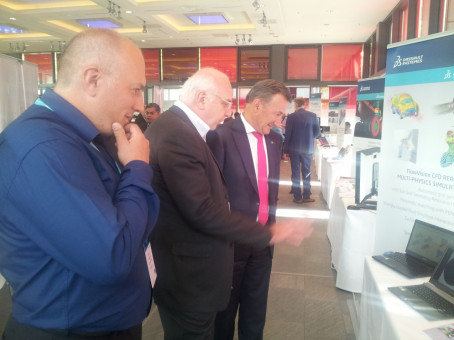 From Left to Right; Andrey Aksenov (TESIS, CTO), Tomasz Luniewski (Capvidia, General Manager) & Bernard Charles (Dassault Systems, CEO)
Among our visitors was also Bernard Charles (President and CEO of Dassault Systemes), who praised the technological innovation of FlowVision CFD software. He was presented several problems solved with FlowVision including two special projects which were 'oil distribution in automotive transmission in the presence of air phase' and 'modeling of human heart with very complex geometry and movements'.
References: