On the 2nd of May 2018 NAFEMS held a unique eSeminar "Simulation & Digital Twins: Behind the Buzzwords", as part of "The (digital) Hype" series, which aims to look beyond the spin and delve deeper into the reality behind some of today's most cutting-edge concepts, and how they really relate to simulation.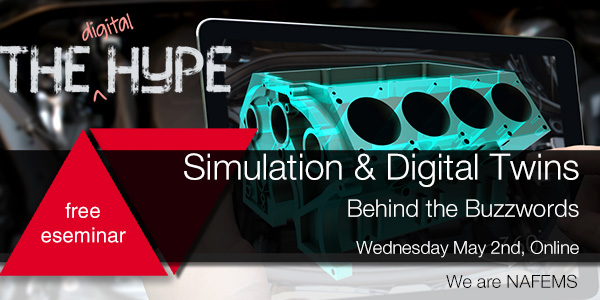 The eSeminar brings together the major software vendors in a uniquely neutral platform, to discuss their definitions of Digital Twin, some of the work they are doing in the space, and the barriers standing in the way of full adoption.
Capvidia also participated in the event where Sinan Soğancı, FlowVision CFD Global Business Development Manager, gave a presentation about Digital Twin of the Human Heart.
The abstract of the presentation: Digital twins are referring to the digital replica of different concepts such as products, systems or processes in different industries. Recently, this concept has also been aforementioned for modeling and simulation of human body parts and organs, already being considered as a crucial bio-technological aspect of close future. In this respect; virtual modeling and analysis of a representative beating human heart, patient-specific heart modeling or digital prototypes of the heart devices are of the main research interests of an interdisciplinary community of cardiologists, surgeons, engineers, and physicians.
In the scope of cardiovascular simulations; patient specific (or normalized among a group of patients) medical imaging based CFD simulations and coupled multiphysics FSI simulations are the main approaches for generating the simulation frameworks moving forward in the road to ultimate digital twins of the human heart.
This presentation is intended to give insights about various processes that lead to higher fidelity digital representations in the scope of cardiovascular simulations, including below:
CFD model generation based on CT scans
Non-invasive digital angiography & FFRCT (Fractional Flow Reserve)
Post-TAVI coronary flow
Blood flow in SIMULIA LHHM (Living Heart Human Model) with mechanical valves
Transcatheter tissue-engineered aortic valve FSI simulation
Evolut R stent deployment in LHHM
Mitral Valve and Mitral Clip FSI simulation
Investigation of blood flow and tissue mechanics in a living human heart is a strong fluid-structure interaction (FSI) phenomenon which, in the given case studies, has been addressed by means of one or two-way coupling approaches between Abaqus FEA and FlowVision CFD software, also in some cases accompanied by SIMULIA LHHM. In such framework; Abaqus is utilized for calculating heart motions and deformations whereas FlowVision is responsible from modeling the viscous blood flow and LHHM serves as a dynamic, anatomically realistic, 4-chamber heart model having 2 mechanical valves coupling the electrical and mechanical fields.
For details about the event, presentation slides and recordings, please visit the event website from NAFEMS: https://www.nafems.org/publications/resource_center/s_may_18_tech/