The "Elbrus" logistics support ship, build at the shipyard 'Severnaya Verf', has been launched to sea on May 15, 2017. FlowVision CFD software has been used as a virtual hydro channel and wind tunnel for evaluation and optimization of hull form design.
Engineering design and simulation specialists from companies Digital Marine and JSC Spetssudoproekt conducted CFD simulations of Elbrus including hydrodynamics and aerodynamics effects on ship hull, also examining the operating conditions of helicopter on the ship deck (analogous to wind tunnel tests).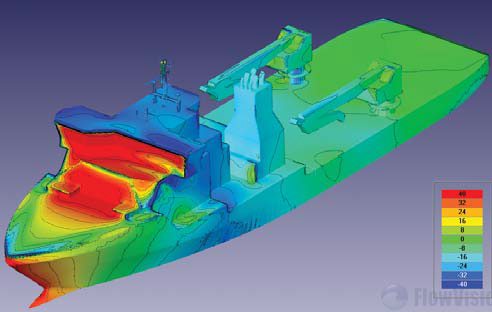 External aerodynamics including deck during ship motion
Ship propulsion and underwater hydrodynamics were also investigated in the scope of CFD simulations performed via FlowVision CFD software.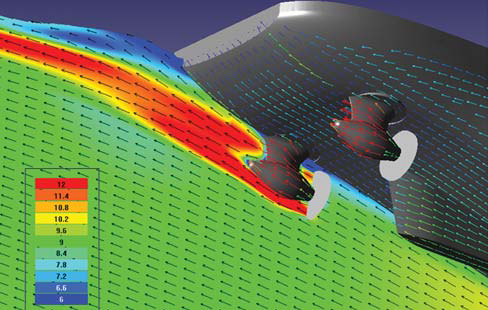 Propulsion and underwater hydrodynamics
About the Project 23120 by The Ministry of Defense of the Russian Federation: The Project 23120 logistics support ship is designed to carry cargoes, including their delivery ships on the high seas, tow ships and vessels, escort ships performing combat missions, provide assistance to seafarers in distress, and carry out seafloor relief studies. The Elbrus's hull complies with the ARC4 ice class sufficient to navigate through 0.6m-thick ice fields.