Capvidia, as a member of Automation Alley, is organizing (8th June) a seminar where participants are expected to learn how to take advantage of FlowVision's unique capabilities such as automatic meshing with associative CAD geometry, use of moving and flexible bodies, and solving heavily coupled multi-physics co-simulations with SIMULIA Abaqus.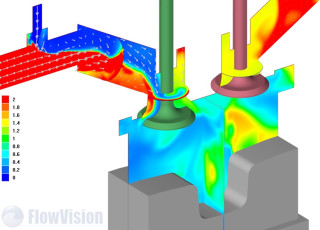 In the scope of automotive applications; FlowVision's unique capabilities allow realistic simulations of the following engineering problems:
Car Tire Hydroplaning
Lubricant Dynamics in Gear Boxes, Torque Converters, Oil Pumps, Bearings, etc.
Engine Cooling
Fuel Tank & Oil Pan Sloshing
Thermal Loading in Brake Systems
Gas Dynamics in Reciprocating & Rotary Engines
Combustion & Thermal Loading in Engine Blocks
Radiators, Oil Coolers
External Aerodynamics (Water Soiling)
This special event will be held at the Automation Alley facility in Troy, Michigan.
Details about event
Date: Wednesday, June 8th 2016
Location: Automation Alley 2675 Bellingham Drive Troy, MI 48083-2044 USA
Morning Session: 9:00 AM
FlowVision Application Areas & Unique Capabilities
FlowVision Automotive Applications
Lunch: Noon
Afternoon Session: 1:00 PM to 5:00 PM
For up-to-date information and registration, please visit event page on Automation Alley website.